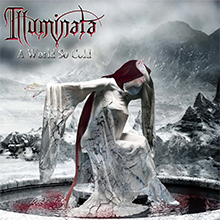 release date:
November 25, 2011
share:
A World So Cold
1. Ashes Of Times
2. Cold Hands Warm Hearts
3. End My Agony
4. Silent Poet
5. The Divine Puppet
6. The World Collector
7. Dead Warden Dreamer
8. A Frame Of Beauty
9. Endless
10. Lost In Picturesque
11. Metamorphobia II
Some additional info about the album
With their debut-album 'A World So Cold' the six members of Illuminata have set out from Graz in Austria to prove forcefully that metal and film score can indeed be mentioned in the same breath. Heavy guitars mingle with energetic orchestra, while the horns, in the style of epic blockbusters, sound the attack on the red carpet to claim the album a place of honour. The concept is rounded off by two extraordinary female voices that will have you in excitement troughout all eleven tracks.
Worthy of an Academy Award!
Album Lyrics
Countless worlds reflected in each diamond from an eye
That as the last one splashed and died forever ceased to cry
Sometimes I got up at night and gazed to the stars
Each like your wondering eyes without the weary years

All the white within your being
In the gentle wake of life
I feel your heart so close to mine
In a world too cold for me

Every moment that I crowned ended underneath the blade
Lowered in the downward spiral of the blind and the decayed
Saints burned in my arms and angels broke my heart
I hoped so many times just to see love die in vain
All the white within your being
In the gentle wake of life
I feel your heart so close to mine
In a world too cold for me
Let each new day be your first with silver linings on the sky
The shades of paradise to those who never let the fire die
Although too late the ghosts of my past fade away
You warmed my heart at last
All the white within your being
In the gentle wake of life
I feel your heart so close to mine
In a world too cold for me
At the end of disillusion
All the time waiting for you
In line with those hoping to see you again, someday
Could it really be the end of the line?
A way too short a tiny spark in time
Look back and cry over all the things undone

Open your eyes my fallen one
And leave your tears behind
They will be dried forevermore
This path leads to a better life
Come with me into the light
And I will heal your aching soul
Walk with me over blackened waters
To cleanse your fainting heart
Take my hand follow me
Draw a last breath and cease to be
In life no one ever gets enough time
So bear a last farewell to all you leave behind
There would be so much to give
(Heed not the blackbird's call)
Yet so much more there is to lose
(For he is only pain and grief)
Regret (I am) your sins (eternity)
And hope for a clean cut

Have no fear of the world beyond
Everyone is bound to go
After death there lies no threat
If you let go there's just ahead
In the darkness we unite
And fulfill your wildest dreams
I was chosen to guide your way
I am your precious memories

Raise my soul now

Take my hand follow me
Draw a last breath and cease to be
In life no one ever gets enough time
So bear a last farewell to all you leave behind

There is no heaven no hell to gain
One neither lives nor dies in vain
Thy beauty within constant fall
A paradise to bloom in all

Take my hand follow me
Draw a last breath and cease to be
In life no one ever gets enough time
So bear a last farewell to all you leave behind


Show me heaven's melodies, gather me in your arms
Reaching out for immortality
A life to give to a dream above everything
Deserving all I ever have to give

Abandonment on you and I will fall too
Yet when I'm giving in another part decays

A lonely soul, a life of warmth
Wandering on every path
Poet's eyes on greater truth
Trapped in precious little loves

Show me lively fantasies and release me with your words
Guide me on across the battlefield
A life to treasure a warmth beyond everything
Deserving all I ever have to give

Abandonment on you and I will fall too
Yet when I'm giving in another part decays

A lonely soul, a life of warmth
Wandering on every path
Poet's eyes on greater truth
Trapped in precious little loves

Show me purest tenderness and steal a kiss from my lips
Take me from my insecurity
A life to give to a fire lighting everything
Deserving all I ever have to give

Possibilities, a painful urge to take them all
Treasures underneath, a painful greed to gain them all
Futures ahead, a painful will to live them all
The angels around me a painful need to love them all


Prayers to a gentle guardian
echo through the air
I sadly treasure every word
Locked into a narrow lair
As the shepherd of your herd

Dependent souls
and wonders to lift them up
I am but the spirit
the cause flees with time

Just pull on a string
Hope, hate, surrender
bathing in the twisted splendor
of another deceived king

Desperate pleas to a savage master
dance within the wind
Hatred in each clouded stare
Raging of a world
that sinned against a load it cannot bear

Fallen fools poured their blood on my hand
I was just created to turn the other cheek

Just pull on a string
Hope, hate, surrender
bathing in the twisted splendor
of another deceived king

Flexible commandments
gifts from a hallowed illusion

I am to blame for all cruel fates
I am to praise if fortune smiles
I am the one to bow my head
I am to stand up to all your lies

Forever a king with forced crown
Deliver me from evil

On my throne above the floods
And watching from a lonely sky
I'd gladly give my heart to you
For one unexpected smile

Just pull on a string
Hope, hate, surrender
bathing in the twisted splendor
of another deceived king
Just pull on a string
Greed, anger, vice
bathing in the pure salvation
raining from my sacrifice


It was like if the skies
had kissed the earth to death
And if my soul opened
widely up its wings

It was like if the wind
had carried me away
Up to a silent star
going bright before descent
It was like if I
had been broken in twain
And it felt like
every piece of me died

Serenades floated through empty air
carried by eternal silence
Longing crawled right through me everywhere
cooling from within

It was like if the moon
had cheered the shades on dancing
And if my eyes could see
through the darkness all around me
It was like if the fields
had lost their lime-green shine
And all the purples and the reds
had turned to grey

Once again my horizon ends

Singing a sad song
waiting for so long
Leaving my old home
I found myself alone


The master of love
yet a ruler of hate
To worship a life
or sealing a fate
The slayer of hope
leads the seeker astray
To open the chest
and breakup the key
Indeed it's the end
of an infinite smile
Dead warden dreamer
Within a dark-hearted chest
Veiled obedient keeper
Let my eyes be greedy
Dead warden dreamer
Within a dark-sighted face
Sad unseen savior
The warden of dreams
Adheres me to my path
To find my deathbed
In his dark-hearted chest
We praise the land of horror,
where's the future in tomorrow
We raise the hand of God
for what we hate in our existence
We leave the loved in sorrow,
there's no future, no tomorrow
We bear hatred towards someone
who once has played with our heartbeat
We are empty as our dreams
there's no hope, not for tomorrow
Our lies should bring us
through the years that should have followed
A flash of snow-white skin
A fatal kiss
from bloody lips
A dream all dressed
in innocence
Eyes forgiving every sin
Yet in nothing but eclipse
While on my grave
delusions dance
A sleeping fool afraid to wake
A long dried eye shedding a tear
while losing all a dreamer has
Deep inside my heart you hang upon a wall
Moments within a frame of beauty
Desperate love yet doomed to fall
Impression of your warming face
An easing for a bleeding heart
A memory to feast my eye
My heart and soul gone on a chase
Suffering from perfect art
Eternal hope to bleed me dry
I may not bear another night
while nothing else I'm longing for
Reality is my nightmare
Deep inside my heart
you hang upon a wall
Moments within a frame of beauty
Desperate love yet doomed to fall
A rose to wither in the light
A love that wouldn't last a dawn
Holding hands through mortal bars
Deep inside my heart
you hang upon a wall
Moments within a frame of beauty
Desperate love yet doomed to fall

Upon a slowly closing book
A path to the fall, the end of it all
The lines laid out in dearest blood
Upon a golden moon's descent
Once high, so bright in newborn light
Yet refused the eternal dance

A cloak of silence unfolds
Memory upholds the wounds

Our searing light and our debris
Our bloodshed and our mild caress
Our mercy and our cruelty
In black and white is endless

Upon moments of grace and bliss
A desire so strong to forever hold on
To a dream of eternal love

A cloak of silence now unfolds
Memory upholds the wounds

Our searing light and our debris
Our bloodshed and our mild caress
Our mercy and our cruelty
In black and white is endless
v A cloak of silence covers all
Of tenderness and fatal thrall
A cloak of silence now unfolds
Memory upholds the wounds

Our searing light and our debris
Our bloodshed and our mild caress
Our mercy and our cruelty
In black and white is endless



I watch the sundown of my life
On these burning haunted plains
That once cared to make me smile
My utmost paradise on earth
I never gazed beyond the mountains
Guarding my scenery
And wandered the ruins of the past
Sharing with me their memory

In thoughts far way
To adore the sublime
Never reaching beyond
Lost in picturesque

A burden for the sense,
a struggle without end
to reach the final conscience
A flower for my love,
blue roses high above
promising the eternal

Sub specie aeternitatis
Temous edax rerum
Si moror, morior

A painful doubt igniting the being
Time is running towards the start
Drowned in need for the highest emotion
To rip my longing chest apart

The torch in hand
discreating my warming harbor
Nothing here to find to breathe
fulfillment into me
The first timid steps
towards a restless future
A journey far away
beyond the margin into myself

Something around me
to pull me further
Wandering on preying
a distant treasure

Keep running along
To gain the sublime
Never reaching beyond
Lost in endless night

A burden for the sense,
a struggle without end
to reach the final conscience
A flower for my love,
blue roses high above
promising the eternal

Spirits will you hear me
I am here on my knees
I craved the infinite
You have taken all from me

Heed the flower blooming in you forevermore


Now see what has become of us
And what has remained
You gave nothing to me
Except a moment of dead faint

I can't recall the feelings
That I cannot show
No one yet believed me
With each goodbye I grow

The song in my head
longed for a voice
Singing from the depths of my heart
A fragile line on the piano I wrote
Just to make the end complete

Seems like I have to take leave of you
To find you again
You played with masquerades I always knew
Every now and then… now and then

Now see what has become of you
A jail without escape
This means nothing to me
An appearance of a fooling shape

It's the fate of mankind
That no one holds the truth
Yet the whit of what we share
Leads matters to its course
I'm the despaired twilight
Seeing off the fading day
A world so cold, a world so dead
Is the place I have to stay

Time has stopped at the end of the world
Still a good place to end in smoke
For the ones trying to stem the tide
Though just a change can heal their souls

Seems like I have to take leave of you
To find you again
You played with masquerades I always knew
Every now and then… now and then

Kiss my eyes
And wipe away the dust of sleep
As in the first flutter of my sight
I see your familiar face