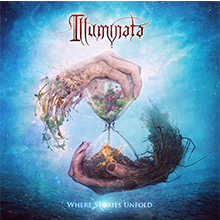 release date:
January 23, 2015
share:
11 tracks, 62 min
New Album 'Where Stories Unfolds' feat. 60-piece Orchestra!
Out on Jan 23rd 2015!
Where Stories Unfold
1. A Story Unfolds
2. Eternity Of Today
3. Violets Compass
4. Arbitrary Asylum
5. White Heart
6. Phoenix
7. The Brass Ring
8. Entwined
9. Danse Macabre
10. The Phantom Rickshaw
11. The World Constructor
Additional Info about the album
With Illuminata's newest release Where Stories Unfold, their unique and refined style is even more dominated by a strong presence of orchestral elements. The album is heavily influenced by recent 'larger than life' blockbusters movies and combines two of the most powerful genres, Heavy Metal and Film Music. Finally, the band's cooperation with the prestigious, 60-piece Czech Film Orchestra and the overall top-notch production culminates in a one of the most vibrant, emotional and innovative releases in the genre to date. Welcome to Hollywood!
LYRICS
No Lyrics
Other songs will be added soon